Enjoy cycling in Anjou and the Loire Valley, back roads or off-roads, according to your wishes or following our pre-established and fully proved itineraries. Meeting the French people, riding a bike on back roads, is quite an experience, going to places at own speed, enjoying lunch at small local restaurants, visiting points of interest
that aren't necessarily on the maps ...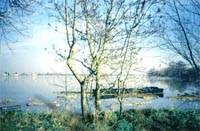 La LOIRE à St.-REMY la VARENNE
(Your itinerary will take you there)
... but known by experts only.
We've experienced and checked every single tour. Trust our expertise !
In addition get accommodated at private lodges for exciting overnight stops and meet "deep France", being hosted as friends by the owners. (Most of them are English speaking). You tell us your points of interest, daily mileage you like to ride, what your time schedule is, arrival and departure dates. We "cook" a complete custom tour for you, from warm welcome at the railway station, free shuttle to our CYBER' LODGE, your first one or two nights at our BED & BREAKFAST, your bicycles, full itinerary with detailed road-book and maps, with overnight stops at private GUEST ROOMS, partners of ours. Collection of bikes at the end of your trip !